PRODUCT CATEGORIES
Product search
FEATURED PRODUCT
CONTACT US
Add:Bungalow-7, No. 14, No. 4, Wanyuan Nanli, Donggaodi, Fengtai District, Beijing
Tel:010-67966983
Fax:010-65860158
E-mail:cbjjf@bjcjf.com
Contacts:Mr. Li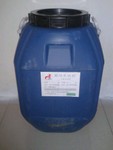 INTRODUCTION:
CJF-YB01 cashmere special whitening agent
Performance profile
CJF-YB01 cashmere bleaching agent is our company's latest research and development of a new type of whitening agent, the most suitable for wool, cashmere whitening. In particular, does not contain fluorescent, and the general fluorescent whitening agent is completely different, whitening ability is very strong, but will not damage the fiber and the application is simple.
Product technical index
Exterior view white powder
Dilute release agent cold water
Usage and dosage
Working fluid temperature 50 ~ 60 degrees: the amount of wool, cashmere weight of 1.8 ~ 2%, the use of the CJF-A103 should be better with the effect of the auxiliary agent
Packaging and storage
1 package: 50Kg plastic drum.
2 storage: sun, moisture, moisture, stored in a cool ventilation. Storage period of three months.