PRODUCT CATEGORIES
Product search
FEATURED PRODUCT
CONTACT US
Add:Bungalow-7, No. 14, No. 4, Wanyuan Nanli, Donggaodi, Fengtai District, Beijing
Tel:010-67966983
Fax:010-65860158
E-mail:cbjjf@bjcjf.com
Contacts:Mr. Li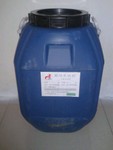 INTRODUCTION:
CJF-Q705 shrink resistant agent
Performance profile
CJF-Q705 crease and shrink resistant agent is a kind of organic silicone resin complex and large molecules containing active functional groups can react with groups of various kinds of fiber and self crosslinking performance, can form a reticular elastic membrane on the surface of the fiber, so that the surface of the fabric is smooth, size stability, crease and shrink; at the same time the structure containing organosilicon macromolecular, so can make fabric obtain smooth, plump, soft feel, solve the traditional polyurethane antishrinking agent treated fabrics have a sense of dryness, board, hard).
This product can be alone as cotton, wool, silk, hemp and other fabric fabric crease and shrink resistant finishing, also can be used alone to bump cloth fixing agent, but also with the company CJF-Q716 machine washable finishing agent for cashmere sweater machine washable finishing, provides the textile material excellent very elastic, drape, size stability and security, significantly improve the added value of the fabric.
Product technical index
Exterior view light yellow transparent liquid
Weakly positive to the child
Dilute release agent cold water
Usage and dosage
Dipping method: CJF-Q705 6% to 10% (the optimum dosage is determined by the textile category and structure).
Bath ratio 1:15 ~ 20
Immersion time 20 to 30 minutes
Working fluid temperature 40
Dip method: CJF-Q705 60 ~ 120g/L (according to the fabric type and the structure of the organization)
CJF-S320 penetrating agent 1 ~ 2g/L
Liquid rate of 70 to 80% (two dip two)
Use notes
1, should be in advance of the fabric rinse;
2, the working fluid with soft water.
3, this product is a small amount of water after adding the ingredients fully diluted tank;
4, should be regularly cleaned and finishing equipment;
5, do not be used with the same anion additives. If the pre - finishing with anionic additives, should strengthen water washing;
Packaging and storage
1 Pack: 200Kg, 50Kg plastic drum.
2 storage: sealed storage, room temperature storage for half a year.