PRODUCT CATEGORIES
Product search
FEATURED PRODUCT
CONTACT US
Add:BeiJingShiFengTai
Tel:010-67966983
Fax:010-65860158
E-mail:cbjjf@bjcjf.com
Contacts:Mr. Li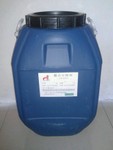 INTRODUCTION:
CJF-S310 low foaming agent
Performance profile
CJF-S310 has good penetration, emulsification and dispersing effect, which can effectively reduce the surface tension of the solution. The unique low foam is especially suitable for wool fiber dispersion, wool, wool fabric dyeing and shrink process. In wool cashmere dyeing process, can improve the uniformity of the dyeing, improve the dyeing effect. For chlorinated wool cashmere, can improve the uniformity of chlorinated degradation, protein removal in mercerizing process. The scouring and bleaching process of cotton and blended knitted fabric and yarn, also have good effect.
This product does not contain all kinds of anti foaming agent.
Product technical index
Exterior view colorless transparent liquid
Leave off
Dilute release agent cold water
Usage and dosage
Recommended dosage is 1 ~ 2g/l, can be directly added to the working fluid.
Packaging and storage
1 Pack: 200Kg, 50Kg plastic drum.
2 storage: sealed storage, room temperature storage for half a year.