PRODUCT CATEGORIES
Product search
FEATURED PRODUCT
CONTACT US
Add:BeiJingShiFengTai
Tel:010-67966983
Fax:010-65860158
E-mail:cbjjf@bjcjf.com
Contacts:Mr. Li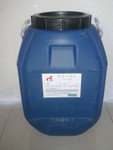 INTRODUCTION:
CJF-F918 holding joint reinforcing agent
Performance profile
CJF-F918 hold force reinforcing agent has antistatic performance and increase the cohesion between the fibers, suitable for blending and processing of wool, cashmere and all kinds of animal fibers and will be used together with the product and CJF series and crude oil, to reduce breakage and flyings phenomenon; increase the fiber strength; improve the spinnability; and increase of short fiber rate.
Product technical index
External concept for emulsion liquid
PH value of 8 to 10 (1% aqueous solution)
Weakly negative from child
Dilute release agent cold water
Usage and dosage
The amount of weight: 0.3%-0.8% fiber roving
Preparation method: remove the wool oil with a good mix, then add conditioner
Packaging and storage
1 package: 200Kg plastic drum.
2 storage: sealed storage, room temperature storage for half a year. Stored in a cool ventilated place, prevent exposure.