PRODUCT CATEGORIES
Product search
FEATURED PRODUCT
CONTACT US
Add:Bungalow-7, No. 14, No. 4, Wanyuan Nanli, Donggaodi, Fengtai District, Beijing
Tel:010-67966983
Fax:010-65860158
E-mail:cbjjf@bjcjf.com
Contacts:Mr. Li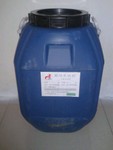 INTRODUCTION:
CJF-C1 cotton flame retardant
Performance profile
CJF-C1 cotton flame retardant is a kind of water soluble flame retardant containing nitrogen and phosphorus. Through the primary hydroxyl reaction in the structure of the fiber, and the capillary effect of the fiber, a part of the flame retardant is absorbed. The fabric can be used to make the combustible gas burning more difficult, and it can reduce the amount of combustible gas. Can be widely used in cotton, hemp, viscose and their blended fabric.
This product is soluble in water, stable performance, non-toxic, non corrosive, non polluting environment, can be used alone, can also be used with other additives.
Product technical index
External transparent liquid
PH value 6 ~ 7
Water soluble soluble in cold, hot water
Off sub - ion
Fire resistance oxygen index over 30 (after flame retardant treatment)
Usage and dosage
Dip method: CJF-C1 150 ~ 250g/L
Rolling rate of 60 to 80% (100)
(GB5455-97 test can reach B1 level. The flame retardant treatment of fiber raw material can be used in the spray method.
Note
The actual amount of the processing method, processing conditions and the specific material to be processed and different. Before use, please according to the requirements of the handle, flame retardancy, first by sample experiments confirm their leaching rolling rate, concentration and other parameters to achieve the optimum effect
Packaging and storage
1 Pack: 200Kg, 50Kg plastic drum.
2 storage: sealed storage, room temperature storage for half a year. In addition, the packaging barrel to avoid direct sunlight, and attention to the separation of strong alkaline substances. The storage temperature is not less than 5, otherwise it will produce a large number of crystals. If there is a crystallization, can be eliminated by heating or water mixing, not affect the quality of.