PRODUCT CATEGORIES
Product search
FEATURED PRODUCT
CONTACT US
Add:Bungalow-7, No. 14, No. 4, Wanyuan Nanli, Donggaodi, Fengtai District, Beijing
Tel:010-67966983
Fax:010-65860158
E-mail:cbjjf@bjcjf.com
Contacts:Mr. Li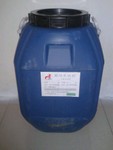 INTRODUCTION:
CJF- Q712 fabric stiffening agent
Performance profile
A special polymer CJF-Q712 fabric stiffening agent in the applicable to a variety of clothing, shoes, hats, bags, non-woven fabrics, flocculus, coating and decoration fiber fabric (including natural fiber and synthetic fiber) of stiffening can impart the fabric ideal stiffening effect. This product does not contain formaldehyde, friendly to the environment; the fabric does not produce color phenomenon; the arrangement of deep and light fabrics are appropriate.
Product technical index
External transparent liquid
Off sub - ion
Dilute release agent cold water
Usage and dosage
Dip method
CJF-Q712 80 ~ 200g/l
CJF-S320 0.5 ~ 1g/l
Use notes
1, all kinds of fabrics with different materials, fabric of organizational structural differences between the larger, combined with different application areas, on stiffness of each are not identical, it is recommended by means of laboratory sample confirmation, then production;
2, used for coating fabric, the product can be mixed with the soft rubber in any proportion, and the thickening agent is a suitable thickness. After scraping, drying, baking, and produced a series of products of different stiffness;
Packaging and storage
1 Pack: 200Kg, 50Kg plastic drum.
2 storage: sealed storage, room temperature storage for half a year.