PRODUCT CATEGORIES
Product search
FEATURED PRODUCT
CONTACT US
Add:BeiJingShiFengTai
Tel:010-67966983
Fax:010-65860158
E-mail:cbjjf@bjcjf.com
Contacts:Mr. Li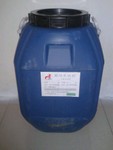 Formaldehyde free fixing agent / professional / printing / dyeing auxiliary raw material / environmental protection products for a variety of dyes
INTRODUCTION:
Formaldehyde free fixing agent CJF-GW
Performance profile
CJF-GW formaldehyde free fixing agent is a kind of special organic compounds, can significantly improve the fabric fabric wet fastness, washing fastness and rubbing fastness, mainly used for direct dyes, reactive dyes and sulfur dyes in solid color processing, especially for activity or direct red, dark brown and black solid color with prominent. After its treatment, color change of the fabric is very small, almost no effect on the bleaching and light fastness. Because this product does not contain formaldehyde, therefore, in particular, to meet the export requirements of export textiles.
Product technical index
Exterior view brown liquid
Weakly positive to the child
Dilute release agent cold water
Usage and dosage
Dipping method: CJF-GW 3% to 0.5 (fabric weight).
Dark fabric CJF-GW 2 ~ 6% (fabric weight)
Bath ratio 1:15 ~ 20
Immersion time 20 to 30 minutes
Working fluid temperature 40 ~ 60
PH value 4 ~ 5
Work skill: the color of the dye is washed > > > > > > > > > >
Padding method: CJF-GW fixing agent 10 ~ 40g/L
Rolling liquid rate 70%
Art: dyeing, washing, two dip two rolling (heavy fabric) - > dry (100) - > finished
Packaging and storage
1 Pack: 200Kg, 50Kg plastic drum.
2 storage: sealed storage, room temperature storage for half a year.