PRODUCT CATEGORIES
Product search
FEATURED PRODUCT
CONTACT US
Add:Beijing Fengtai District in Nanyuan Airport
Tel:010-67966983
Fax:010-65860158
E-mail:cbjjf@bjcjf.com
Contacts:Mr. Li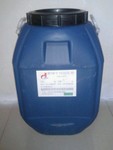 INTRODUCTION:
CJF-A121 purple velvet special cleaning agent
Performance profile
The special cleaning agent for CJF-A121 is composed of a variety of nonionic, anionic surfactants and additives. It is specially designed for the characteristics of purple velvet, which is characterized by high strength, washing, permeability, softness and antistatic properties. After washing cashmere with a very good degree of fluffy and full feel.
Product technical index
External view is colorless or light yellow transparent liquid
Off the son of the non / Yin
Soluble in water
PH 7 (1% solution)
Usage and dosage
Directly adding the working fluid, stirring evenly, the water temperature is suitable for 45-50, and the amount of 10-15% is.
Packaging and storage
1 Pack: 200Kg, 50Kg plastic drum.
2 storage: sealed storage, room temperature storage for half a year.