PRODUCT CATEGORIES
Product search
FEATURED PRODUCT
CONTACT US
Add:BeiJingShiFengTai
Tel:010-67966983
Fax:010-65860158
E-mail:cbjjf@bjcjf.com
Contacts:Mr. Li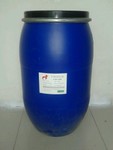 INTRODUCTION:
CJF-A120 cashmere cleaning agent
Performance profile
CJF-A120 cashmere cleaning agent is a composite of many kinds of nonionic, anionic surfactants and additives, which have excellent washing, penetration, soft and antistatic properties. Especially suitable for washing and processing, it is a special product with no plush. After washing, the cashmere whiteness, feel is very good, and has good gloss and fluffy degree, with CJF-YB01 cashmere whitening agent, soft agent for use with good effect.
Product technical index
External view is colorless or light yellow transparent liquid
Off the son of the non / Yin
Soluble in water
PH 7 (1% solution)
Usage and dosage
Directly added to the working liquid, stirring evenly, the water temperature is suitable for 45-50, the amount of 10-15%.
Packaging and storage
1 package: 130Kg plastic drum.
2 storage: sealed storage, room temperature storage for half a year.