PRODUCT CATEGORIES
Product search
FEATURED PRODUCT
CONTACT US
Add:Beijing Fengtai District in Nanyuan Airport
Tel:010-67966983
Fax:010-65860158
E-mail:cbjjf@bjcjf.com
Contacts:Mr. Li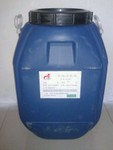 INTRODUCTION:
CJF-A106 net lotion
Performance profile
CJF-A106 net lotion is a composite of nonionic surfactants and additives. Has good wetting, penetration, emulsification, etc.. The group does not contain benzene ring with non ion surface active agent, so the environment friendly, for a variety of fabric dyeing and other procedure before and after the fabric cleaning.
The product has no special requirements for water quality, the physical and chemical indicators have reached the level of imported products.
Product technical index
External transparent liquid
Leave off
Soluble in water
PH 7 (1% solution)
Usage and dosage
The use of the general working fluid is 1.5 + 0.5g/L, can be directly added to the working fluid.
Packaging and storage
1 Pack: 200Kg, 50Kg plastic drum.
2 storage: sealed storage, room temperature storage for half a year.