PRODUCT CATEGORIES
Product search
FEATURED PRODUCT
CONTACT US
Add:BeiJingShiFengTai
Tel:010-67966983
Fax:010-65860158
E-mail:cbjjf@bjcjf.com
Contacts:Mr. Li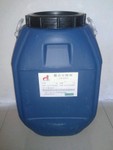 INTRODUCTION:
CJF-D507 chelating dispersant
Performance profile
CJF-D507 chelating dispersing agent is a kind of organic polymer compound, which is a kind of highly effective and environmentally friendly chelating dispersant for environment friendly and biodegradable. With super softening hard water and excellent ability of inorganic salt crystal and particle dispersion and high temperature resistant, stable in acidic, alkaline and high salt concentration in the environment. In different processes, the following characteristics are shown:
1 in the former treatment process, the impurities in the cellulose can be decomposed, dispersed, suspended, to prevent the deposition of impurities, the device does not scale;
2 in the process of bleaching, can promote the whiteness and feel of the increase, to prevent the white spot and the hole and the formation of silicon;
3 especially in the dyeing process, can increase the stability of water sensitive dye, significantly improve product brightness and color;
4 effectively promote the unfixed dye elution, and has certain anti staining effect, improving the color fastness of products.
Product technology
Exterior view white powder
Isolated Yin
PH value of 6 to 7 (1% aqueous solution)
Dilute release agent cold water
Usage and dosage
Recommended dosage is 0.5 ~ 2g/L, can be directly added to the working fluid.
Packaging and storage
1 Pack: 200Kg, 50Kg plastic drum.
2 storage: sealed storage, room temperature storage for half a year.