PRODUCT CATEGORIES
Product search
FEATURED PRODUCT
CONTACT US
Add:BeiJingShiFengTai
Tel:010-67966983
Fax:010-65860158
E-mail:cbjjf@bjcjf.com
Contacts:Mr. Li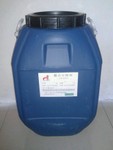 INTRODUCTION:
CJF-S322 deaeration penetrant
Performance profile
CJF-S322 penetration defoaming agent by a variety of nonionic surfactants and additives. Not only has the good penetration, dispersing and dissolving effect, but also has the lasting effect of the bubble and the bubble. For bulk fiber, twisted yarn, yarn, the warp beam pretreatment and dyeing increased permeability and effective removal of bubbles, thereby enhancing the efficiency of the dye permeability, reduce the color flower rate.
Product technical index
Exterior view white viscous liquid
Leave off
Dilute release agent cold water
Usage and dosage
Advance with warm water stir after adding some dissolved liquid, recommended dosage for the fabric weight of 0.5 ~ 1%.
Packaging and storage
1 Pack: 200Kg, 50Kg plastic drum.
2 storage: sealed storage, room temperature storage for half a year.