PRODUCT CATEGORIES
Product search
FEATURED PRODUCT
CONTACT US
Add:BeiJingShiFengTai
Tel:010-67966983
Fax:010-65860158
E-mail:cbjjf@bjcjf.com
Contacts:Mr. Li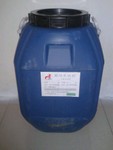 INTRODUCTION:
CJF-P205 smoothing agent
Performance profile
CJF-P205 smooth agent as a fine of ultra high molecular weight organic silicone hydroxyl modified emulsion. Because of the silicone molecules containing hydroxyl terminated active functional groups, together with natural fiber and synthetic fiber molecular group bond and self crosslinking properties, so it can be endowed with all kinds of textile fiber and its products durable smooth and elastic feeling, but also can obviously improve the tearing strength and wrinkle resistance. Because of its super molecular structure characteristics, it can be endowed with special cool and unexpected bright effect of textile products. With amino modified silicone emulsion used, it can be endowed with a soft, fluffy and smooth synthetic feel.
Product technical index
Exterior view white latex
Leave off
Dilute release agent cold water
Usage and dosage
Dipping method: soft agent 3% ~ 6%
CJF-P205 1% ~ 2%
Bath ratio 1:20
Immersion time 20 to 30 minutes
Working fluid temperature 40
Use notes
1, should be in advance of the fabric rinse;
2, the working fluid with soft water.
3, this product is a small amount of water after adding the ingredients fully diluted tank;
4, should be regularly cleaned and finishing equipment;
Packaging and storage
1 Pack: 200Kg, 50Kg plastic drum.
2 storage: sealed storage, room temperature storage for half a year.